The VCA DCV labs are available to NETLAB+ customers as a hosted service offering, (see the supported lab list below). The labs are accessed through a Centralized NETLAB+ system, hosted by NDG.

The VCA DCV labs are now also available on customer NETLAB+ systems.
Hosted System Use
Overview
The VMware Certified Associate,Data Center Virtualization (VCA-DCV) labs introduces the principles and concepts of virtualization and cloud infrastructure technologies. It provides the required technology foundation for technical professionals to make informed decisions on migration to the cloud. The labs are ideal for gaining a broad understanding of the transition from a classic data center, to a virtualized data center, to the cloud.
These labs can be the first step for a variety of certification and specialization opportunities. VMware and EMC have partnered to provide the most comprehensive virtualization learning and validation program in the industry.
NDG has worked closely with the VMware IT Academy Program to develop these labs and to ensure compatibility with NETLAB+.
The NETLAB+ VMware VCA DCV pod is used to support the VMware VCA DCV course. All lab components are 100% virtualized (i.e. ESXi-in-ESXi) to achieve a high pod to physical host ratio, at a significantly lower cost point relative to traditional course delivery. Using virtualization and the sharing and scheduling capabilities of NETLAB+, each student (or team of students) has access to their own set of virtual equipment, which they may maintain exclusive use of throughout the course.
Enabling the Labs
To enable the VMware VCA DCV labs, check the box for "VMware VCA DCV Labs" in the class settings. This must be done for each class requiring access to the labs.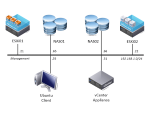 Supported Lab List
| Lab | Description |
| --- | --- |
| 1 | vSphere and vCenter |
| 2 | vSphere Datastore Implementation |
| 3 | vSwitches - Networking in the VDC |
| 4 | Benefits of vMotion and Storage vMotion |
| 5 | VMware HA and VMware FT |