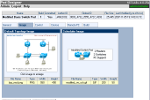 Pod Designer - Image Tab
NETLAB+ includes a variety of supported content and general IT topologies that can be used to support a wide range of training programs. NETLAB+ also provides tools to meet custom requirements.
Pod Designer enables you to design custom topologies to meet specialized requirements. On NETLAB AE systems, you may deploy 2 pods that are based on custom pod designs. All pods on NETLAB PE and NETLAB EE systems can be custom pods.
Lab Designer provides a means of creating a series of custom laboratory exercises that may be made available for class use. A lab design is a set of labs and related reference material that may include PDF documents, images and preset configuration files for each lab exercise. Custom lab designs can be used with NDG standard pods or custom pods.
Learn More