Annual maintenance provides NETLAB+ software upgrades and access to NDG customer support. For schools participating in the VMware IT Academy Program or the Cisco Networking Academy, annual maintenance includes curriculum support and lab updates. Only systems with a current annual maintenance agreement receive these benefits.
Maintenance fees are due on or before the designated renewal date. Your timely renewal ensures the sustainability of your NETLAB+ system. NDG is committed to supporting the dynamic nature of academic training programs, which require a continuous investment by NDG in both labor and equipment.
Renewal of annual maintenance is required for NETLAB Academy Edition®

NETLAB Professional Edition® may renew annual maintenance to receive software updates, lab updates, and to access NDG customer support.

Submit a price quote request for Annual Maintenance Renewal
Is Your Maintenance Fee Due?
You can view the maintenance status of your NETLAB+ system by signing in to your administrator account. Your maintenance status is displayed in the right corner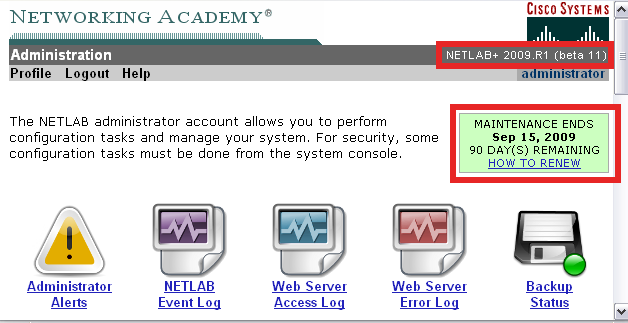 How to Renew
Prompt annual renewals will ensure your system stays up-to-date.