CCNA Security v2.0 labs require different console and enable secret password settings from other courses. If CCNA Security v2.0 and other courses are enabled in the same class, it is likely that the NETLAB+ automation will fail to save configuration files, since the default passwords, cisco and class are not the correct passwords for CCNA Security.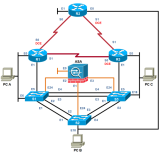 To avoid configuration management problems, we recommend that the CCNA Security v2.0 course be enabled in a separate class from other courses. Enabling this course within a separate class will allow you to set the appropriate console and enable secret passwords in the class settings required for CCNA Security v2.0.
Create a new class to be used for the CCNA Security v2.0 Course and select the global labs in the class settings as described in the table below, depending on the pod(s) that will be used. You may also select the Skills-Based Assessments (Skills A and/or Skills B), as indicated in the table below.
| Pods | Global Labs | Instructions |
| --- | --- | --- |
| Multi-purpose Academy Pod | AE CCNAS v2.0 - MAP - English | On the Global Labs section of the class settings, check the "AE CCNAS v2.0 - MAP - English" if the MAP will be used to perform the labs. |
| Multi-purpose Academy Pod w/ASA | AE CCNAS v2.0 - MAPASA - English | On the Global Labs section of the class settings, check the "AE CCNAS v2.0 - MAPASA - English" if the MAP w/ASA will be used to perform the labs. |
| Multi-purpose Academy Pod w/ASA | AE CCNAS v2.0 SkillsA - MAPASA - English | On the Global Labs section of the class settings, check "AE CCNAS v2.0 SkillsA - MAPASA - English" to select Skills A. |
| Multi-purpose Academy Pod w/ASA | AE CCNAS v2.0 SkillsB - MAPASA - English | On the Global Labs section of the class settings, check "AE CCNAS v2.0 SkillsB - MAPASA - English" to select Skills B. |
Update the following settings:
Change the Console Password to ciscoconpass
Change the Enable Password to cisco12345