CCNP TSHOOT labs require a different Enable Secret Password setting from other courses. If CCNP TSHOOT and other courses are enabled in the same class, it is likely that the NETLAB+ automation will fail to save configuration files, since the default password is not correct for CCNP TSHOOT.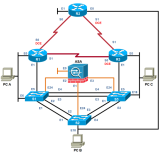 To avoid configuration management problems, we recommend that the CCNP TSHOOT course be enabled in a separate class from other courses. Enabling this course within a separate class will allow you to set the appropriate Enable Secret Password in the class settings required for CCNP TSHOOT.
Create a new class to be used for the CCNP TSHOOT Course using the following settings:
In the Global Labs section of the class settings, select AE CCNPv7 TSHOOT - MAP or AE CCNPv7 TSHOOT - MAP/ASA.
Do not enable any other labs for this class.
Do not the change the default Console Password, is should remain cisco.
Change the Enable Secret Password to cisco.
The Skills exam is contained in a separate lab package and is enabled in the class settings separately from the core CCNPv7 TSHOOT labs. This allows instructors to defer access to the exams until the end of the course. To enable the SBA, select global lab AE CCNPv7 TSHOOT SBA - MAP or AE CCNPv7 TSHOOT SBA - MAP/ASA.