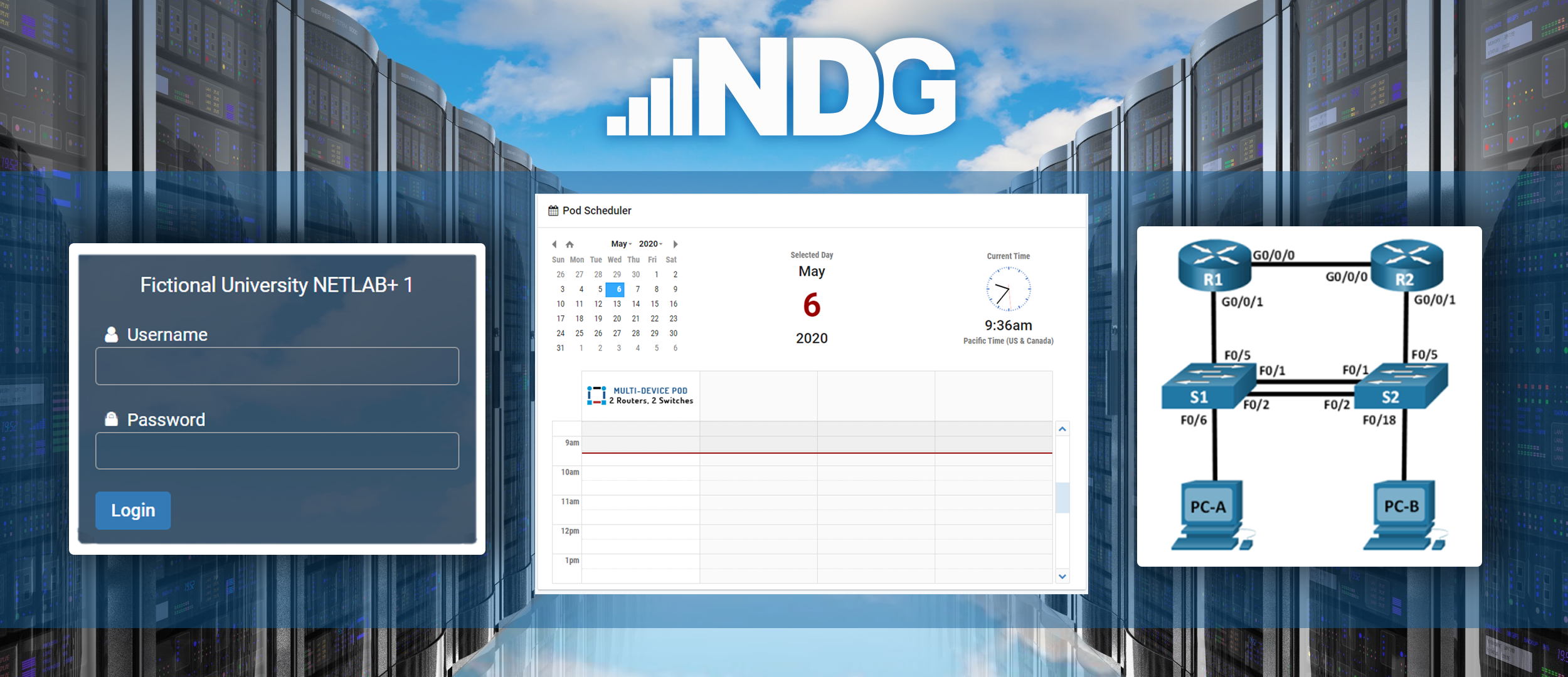 NETLAB+ Hosted at Your Academy to "Timeshare" Cisco Equipment
NETLAB+ enables Cisco Networking Academies to host real Cisco lab equipment and curriculum on the internet for blended distance learning, remote Academy access, instructor-led training, student team, and individual student equipment access. Resources can be scheduled, automated, and accessed remotely, allowing Academies to maximize their investment in equipment and software. See the Requirements page for specifications and connectivity requirements.
Maximize the Return on Your Investment in Equipment
Using NETLAB+, Academies can maximize the return on their equipment investment by providing round-the-clock, worldwide equipment access to instructors and students. NDG works closely with Cisco to create topologies that will work across multiple curriculums, using the smallest amount of equipment possible. See details on the Multi-Device Pod, which supports CCNAv7 labs.
Blended Distance Learning
NETLAB+ provides the remote lab access and equipment collaboration tools necessary for Blended Distance Learning. Program adoption and enrollment is no longer subject to geographical limitations. Instructors gain the tools they need. Students gain the convenience they desire. The carbon footprint is reduced. NETLAB+ can also be used effectively in the physical classroom, offering a true blended solution.
Increase Instructor Productivity
NDG works closely with Cisco to author labs that will work remotely using NETLAB+ topologies. NDG sweats the details of remote accessibility, so instructors are free to focus on providing training. Instructors can simultaneously share equipment consoles and PCs with students. Automated device actions assist with configuration management, student assessment, cleanup and password recovery tasks. NETLAB+ frees instructors from lab management details to focus on curriculum, labs and assisting students.
Real and Remote
NETLAB+ provides students with a high fidelity training experience through remote interaction with real routers, switches, firewalls, PCs, and servers - all running real operating systems and software. Networking professionals support devices in multiple geographical locations and must possess the skills to configure, manage, and troubleshoot remotely. NETLAB+ mirrors the real and remote environment, which is vital to achieving success in today's marketplace.
Academy Benefits
Instructor Benefits
Student Benefits

Maximize equipment investment
Implement blended distance learning
Share access with other Academies
Scheduled, round-the-clock lab access
Increase student lab time
Host Academy curriculum
Discounted price, cost recovery

Provide remote instructor-led training
Record and assess student lab work
Share sessions with your students
Focus on labs (not lab management)
Rapid lab assessment
Automate device and PC cleanup
Automate configuration management

Use real equipment
Use real operating systems
Use real software applications
Schedule labs at your convenience
Complete labs at home
Attend instructor-led training at home
Develop remote management skills
Sharing and Cost Recovery
NETLAB+ licensing allows Academies who purchase NETLAB+ the option to share access to their system with other Academies throughout the world. Hosting academies may charge a cost recovery fee, which may help reduce their expenses. Remote Academies who may not have the resources to purchase hardware can greatly benefit from having access to equipment on a hosting academy's NETLAB+ system.